What makes a better Real Estate experience?
At The Lora Company, we try to think like our clients.
Real estate sales is a service industry, just like hotel and retail industries. The best person Peter ever worked for in his former career in hotel management would coach his staff to "think like a guest." At The Lora Company, we try to think like our customers.
We listen to our customers wants and needs
We try to make the selling and buying processes simple, clear and stress-free
We communicate effectively
We pay attention to the many details in real estate transactions
We are solution-oriented problem solvers
We go the extra mile to deliver exceptional service and professionalism!
In addition to our knowledge and expertise gained from handling many real estate transactions, when you choose The Lora Company, you are benefitting from our combined experience of living in Taos for over ____years, We know Taos! Additionally, you are gaining access to our combined business network of local resources and service providers, e.g., builders, plumbers, electricians, roofers, attorneys. Insurance brokers, etc. We use our network to aid and support our clients.
PLEASE ANSWER THE FOLLOWING QUESTIONS
when was the Lora co. founded? The Lora Company was founded in 2005.
has the Lora co. been involved in the sale/purchase of any famous Taos properties? (Fechin House, Mabel Dodge Lujan, Blumenschein, etc?) Yes: The Lineberry home and museum was sold to Taos Pueblo. Price was $5.4 million. It was the home of Duane Van Vecten, painter and patroness of the arts, and her husband Ed Lineberry. The art collection is now part of the Taos Art Museum The Johnson property in Des Montes sold for $2.5 million. This iconic 8-bedroom home had been a bed-and-breakfast, the home for many years of Mr. & Mrs. Paul Johnson.
On what basis do you select your associate brokers? We are a small boutique company that prioritizes quality not quantity. We only hire associate brokers with substantial experience. In addition, brokers must be a good fit with the corporate culture of professionalism, exceptional customer service, and putting client goals above our own.
Who are some of your best affiliate relationships in the Taos community and why?
Why Taos? The members of The Lora Company team came to Taos for different reasons. But we all have found Taos to be an intriguing, satisfying place to live. It has a small-time vibe, and it is easy to get to know people, and to feel part of a community.
Elaborate on the company's real estate experience (we will link to Market reports)
take a look at the about pages for other real estate agency websites for writing inspiration
As owner and Qualifying Broker of The Lora Company, Peter assumes a responsibility to ensure that everyone at the Lora Company provides the best customer service while adhering to regulations of the New Mexico Real Estate Commission and the National Association of Realtors Code of Ethics as a baseline of how the Lora Company helps customers to buy and sell property.
Prior to becoming a realtor in 1999, Peter had a 20-year career in the resort industry, including positions in business planning and hotel operations at Kiawah Island Resort in South Carolina, at Four Seasons Resort Nevis in the Caribbean, and at several properties in Santa Fe and the Taos area. He brings the very same customer service ethic of the hospitality industry to his real estate practice.
Peter earned a degree in Hotel Administration from Cornell University and his MBA from Tulane. He has served on the Board of Directors of the Taos County Association of Realtors and Habitat for Humanity of Taos. He has been a member of the Professional Standards Committee of the Santa Fe Association of Realtors since 2002.
Peter and his wife, Amanda have enjoyed life in Taos since 1996. If you can't find them at their renovated adobe home in the historic Ranchos de Taos neighborhood, they're probably visiting family and friends in California, Tennessee, or South Carolina.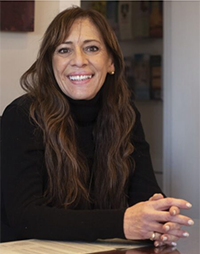 Maria has called Taos home since 1987 and her enthusiasm for living here is matched only by her passion for real estate. Before Taos, she had over a decade of sales experience in New York City Corporate Travel, overseeing the entire travel department for a multinational corporation [WHICH ONE?]. Maria perfected her extremely focused approach to service during her time working at the United Nations as a [POSITION?], providing her clients with the type of service they'd expect in a five-star hotel.
Maria takes every unique need of each client into account. Whether you are a buyer who needs help researching the market and understanding the intricacies of a real estate transaction, or a seller who needs guidance with pricing, preparing your home for showing, targeting a specific market, or navigating the escrow process, Maria never leaves any detail overlooked. With considerable experience in the Taos real estate market, Maria is an expert in the service field and provides clients with an outstanding selling or buying experience.
Maria Grew up in New York City and currently lives in the Taos Cañon area with her two children. It's not just the famous Taos sunsets, or the outstanding skiing, hiking, and natural beauty that make this place home. It's the people who live here. Call Maria and see what a difference a commitment to excellence makes.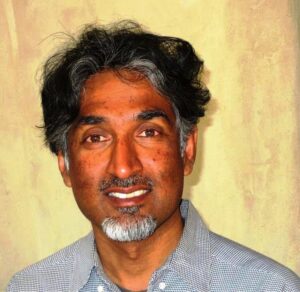 Sanjay first arrived in New Mexico in 1979 as a new immigrant and student, attending St. John's College in Santa Fe; brought to NM by Plato and Aristotle, Aeschylus and Shakespeare, Kant, Baudelaire, Einstein, and Dante. It was the land itself, with its stark, bright light and dramatic landscape. New Mexico's rich culture, along with many friendships kept him coming back.
Sanjay spent over 13 years working in operations, human resources, and real estate/construction, including managing several multi-store roll-outs for a number of San Francisco Bay Area retail companies including The Nature Company/Discovery Channel stores, The North Face, Illuminations [PLEASE PROVIDE LINK], and Restoration Hardware. Sanjay finally returned to New Mexico in 2002, following the woman he loves and set down roots; investing in real estate to make Taos his forever home.
Sanjay has relished becoming a part of a community that is diverse, creative and serious. In addition to the Taos Soccer Coalition, The Taos Valley Friends of Anansi Charter School, Sanjay is a board member of the Taos Ski Team and Intermezzo of the Santa Fe Opera. Sanjay has served for six years on the Board of Visitors and Governors of St. John's College and presently serves on the boards of the Taos Land Trust and the Quail Roost Foundation. He holds a long-standing belief in the long term value of northern New Mexico real estate and his experience and knowledge are the ultimate guide to buying or selling property here in the beautiful Taos Valley.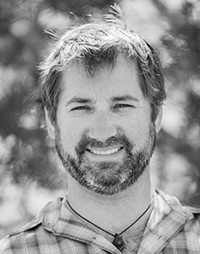 Jonah has lived in Taos for more than half his life. He first came to New Mexico from Chicago on a family adventure to run rivers. Jonah was drawn to the amazing landscape, deep cultural roots and endless opportunities for adventure. He returned [WHAT YEAR?] as an anthropology student at the University of New Mexico.
Jonah is deeply interested in entrepreneurial pursuits. He spent his first years in Taos in the Outdoor Specialty industry as the former owner and later sales representative of everyone's favorite local camping store on the Taos Plaza. He transitioned into real estate to deepen his understanding of residential and commercial real estate sales. After being mentored by Taos real estate veteran Doug Bachtel and Red River's Rob Swan, Jonah joined the Lora Company in 2022 to work closely with Peter and his team.
Jonah is an avid mountain biker, backcountry skier, motorcyclist and a follower of all things related to surfing. He is a lover of music, art, food and culture. When not helping the people of the Taos community buy and sell property, he can be found chasing waves and street food in far-off places close to the ocean.