Photo Credit: Taos Pueblo
Taos is well known as an artsy town.
To be sure, the artistic legacy of Taos Pueblo goes back a millennia or so. The creation of the main structures of Taos Pueblo form the longest continually inhabited community in the country. The beauty of the land has always expressed itself through the artwork of its people- through intricate silver and leatherwork, glittering micaceous ceramics, exquisite textiles, and more. The roots of the arts in this region go back even further. The ancestral artists of northern New Mexico left traces of their creative passion in mysterious petroglyphs on the canyon walls, in shards of pottery undisturbed at the bottom of a stream bed, and in the palpable feeling of inspiration that permeates the windy mesa and the peaceful arroyo.
When the Spanish came, they brought their own mediums. Finely crafted and brightly painted boxes carrying goods and grains are proof of the genius of the carpinteros of the time. You can see the lingering excellence in the carved vigas of many old homes around Taos county. Inventive tinsmithing made use of discarded tin packaging from the Santa Fe Trail to create ornate frames, sconces, and religious artifacts. New Mexican Spaniards poured soulful creativity into the painting for religious icons of saints, called Santos. Trade running north from Chihuahua brought fresh inspiration and materials from both Spain and Mexico, but settlers largely made use of local materials, supported by the pottery and architectural influence of the Pueblos of Northern New Mexico to make the practical beautiful as they etched out a living in this rugged landscape.
Finally, the anglos showed up to complete the extant creative diaspora. Their expansion west in trade and conquest created space for American artists to revel in the enchanted light of northern New Mexico- and to introduce new mediums such as oil and watercolor painting. In 1898, Bert G. Phillips and Ernest L. Blumenschein were traveling through our area on a sort of painting expedition to Mexico. Their wagon wheel broke north of town,  and laid up waiting for repair, they ended up becoming enamored with Taos' rich culture and breathtaking vistas, and spent the rest of their trip there. By 1915, six well-educated and worldly American painters had gathered to form the Taos Society of Artists: Bert Geer Phillips, Ernest L. Blumenschein, Joseph Henry Sharp, Oscar E. Berninghaus, E. Irving Couse and W. Herbert Dunton. The supplies and techniques they brought inspired Albert Looking Elk, Albert Lujan, Juan Mirabal– Three artists dubbed "The Three Taos Pueblo Painters", who integrated new painting mediums in the early 20th century to create lasting artistic legacies. 
The dream these painters built here, far from the conventional playgrounds of eurocentric success in New York or Paris, continues to this day. You can visit Blumenschein's house, which is now a museum. The home of Russian artist Nicolai Fechin now houses the Taos Art Museum. And you can stay in the home of socialite and patron of the arts Mabel Dodge Luhan, whose famous salons and hospitality attracted the likes of Georgia O'Keefe, Aldous Huxley, Martha Graham and DH Lawrence. 
Photo Credit: Taos Art Museum at Fenchin House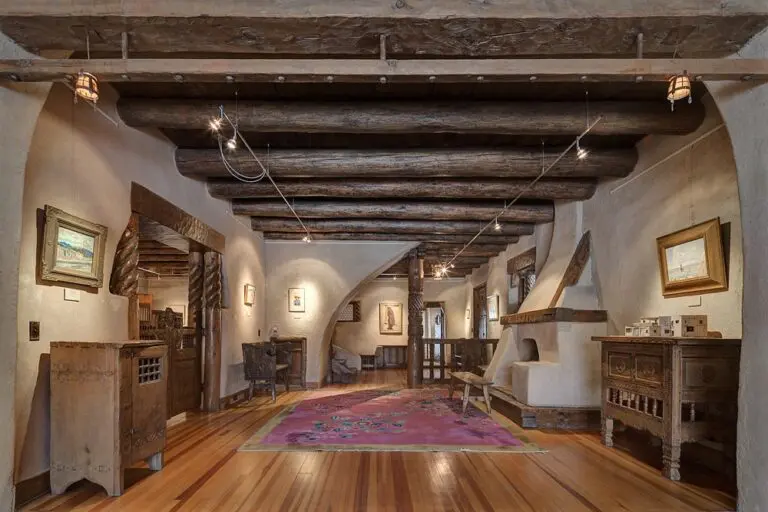 The blend of cultures in Taos County continues to create fertile ground for artists, pilgrims and locals alike, to flourish and cross-pollinate ideas and techniques. Artists like sculptor John Suazo epitomize the creative lineages that are passed through generations in this pretty valley, bringing sculpture techniques learned from his uncle to abstract and experimental heights. Arrowsoul Trading Post is run by Anglo, Hispanic, and Native leadership and is a beating heart in the local art scene. Taos Plaza and Kit Carson road are packed with galleries full of the art of the many artists from around the world who are newly arrived or passing through; who are fresh with the wonder and inspiration that blows down in pink waves from the mountains at sunset.
To live out on this beautiful frontier requires a distinctly creative mindset. Waking up and looking through a picture book window at the turn of spring, the rich history of art is no great wonder. By sheer force of beauty, Taos brings out the artist in all of us that live here.