*map graphic image curtesy of Taos News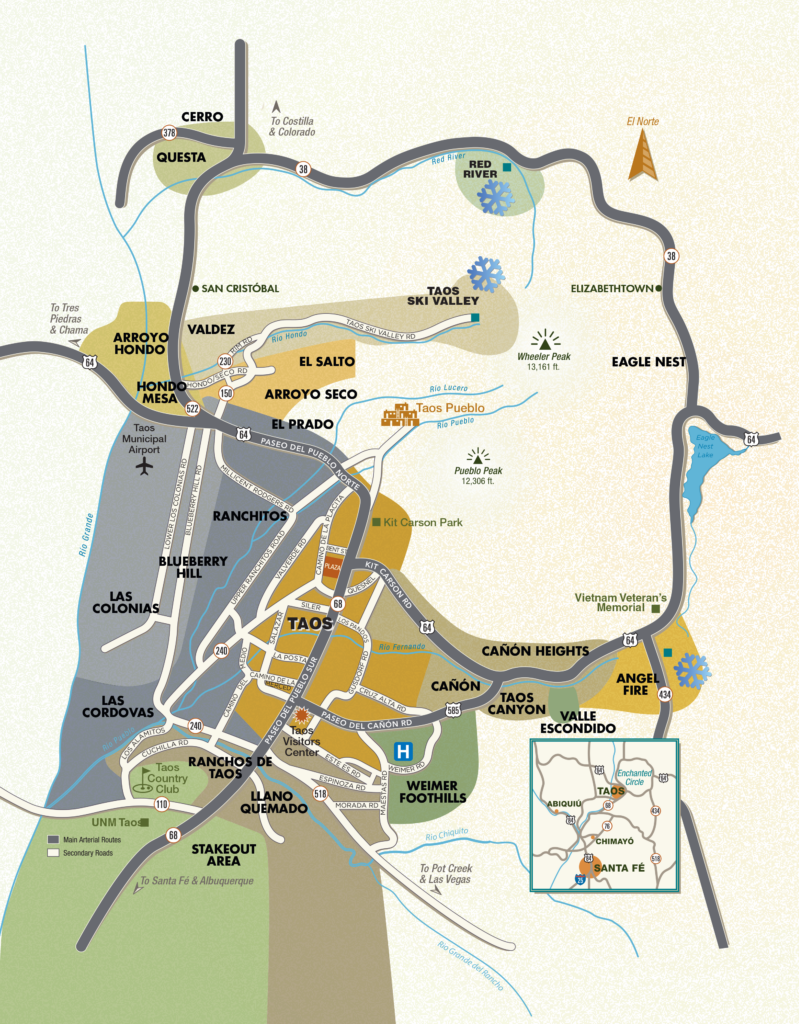 TOWN OF TAOS
Taos Plaza resides at the heart of the historic district, surrounded by shops, galleries and restaurants within easy walking distance of neighboring homes. At nearly 7,000 feet, the town is relatively flat with a variety of native plants and trees.
BLUEBERRY HILL
An increasingly popular area for homes surrounded by sagebrush mesas and a short drive into the town of Taos.
UPPER LAS COLONIAS
This popular area is conveniently located and tucked in and around sagebrush and juniper trees.
ARROYO HONDO, HONDO MESA
Where rolling high desert mesa meets the historic Río Grande Gorge, this village of adobes, ranches and a community store and restaurant is popular with fishing enthusiasts and summer picnics near the base of the historic John Dunn Bridge.
ARROYO SECO, EL SALTO, DES MONTES
The picturesque village of Arroyo Seco invites visitors to stroll throughout the shops, galleries, and cafés. Arroyo Seco and Des Montes have rolling terrain with orchards and ranches. The areas offer expansive mountain views..
TAOS SKI VALLEY, VALDEZ
The village of Valdez sits at the base of the world-renowned Taos Ski Valley. Both areas offer opportunities to live at high altitude and amongst the woodlands and valleys along the Río Hondo. Taos Ski Valley has become a year-round destination attracting visitors in all four seasons.
TAOS CANYON, CAÑÓN
Hiking trails, campgrounds and extensive mountain views abound in this pristine setting positioned along the Río Fernando.
TAOS COUNTRY CLUB, STAKEOUT AREA
Home to 'Outlaw Hill' where Old West outlaws hid from authorities within the thickness of the piñon and juniper trees, this area affords expansive mountain views.
RANCHOS DE TAOS, TALPA, LLANO QUEMADO
Home to San Francisco de Asís, the most photographed church in the nation, Ranchos de Taos is accented with quaint adobe structures, galleries and shops. High terrain and ridges open to views of the Río Grande Gorge and surrounding mountains.
WEIMER FOOTHILLS
Located in close proximity to area schools, Holy Cross Medical Center and the Taos Youth and Family Center, local building restrictions protect the natural landscape and views of the mountains and foothills.
EL PRADO, RANCHITOS, CÓRDOVAS
The rich meadowlands of El Prado abuts the town of Taos and is replete with shops, a gallery, cafés and restaurants. The neighboring residential areas of Ranchitos and Los Córdovas are similar in style and landscape and all have awe-inspiring views of Taos Mountain
VALLE ESCONDIDO
20 minutes east of Taos, this community surrounded by
the Carson National Forest offers year-round recreation including hiking, hunting, camping, mountain biking and ATV trails. The area appeals to full- and part-time residents who enjoy an active community lifestyle with a swimming pool, golf course and playground.
ANGEL FIRE
Cradled in the majestic Moreno Valley, this town is home to a nationally recognized charter school and is a popular year-round destination for skiers, golfers, hikers and outdoor enthusiasts of all types.
RED RIVER
The river of the same name runs through this picturesque town surrounded by the Carson National Forest. This traditional ski town invites travelers and tourists to stay, ski and enjoy the variety of shops and restaurants.
QUESTA
Located at the ingress/egress point of the neighboring town of Red River, this agricultural town at the base of the Sangre de Cristo Mountains hosts a popular seasonal farmer's market and has shops and restaurants.